Red Caviar - Gosudarev Zakaz
Products Category: Russian Caviar

---
The variety of products in our online store is really amazing. But we would like you to pay special attention to Red Caviar "Gosudarev Zakaz". It is canned in metal boxes of 907 grams each, noted by their original design.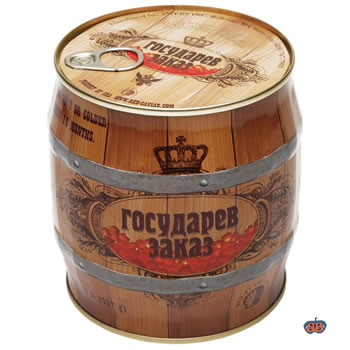 Moreover the can is well thought out to ensure the preservation of the product and its safety and freshness after opening. The name of the product. The order of the sovereign presupposes than it should be eaten exclusively by people from the upper classes. But in the coming holidays we try to make it available for the majority of our clients and thus we are happy to offer you discounts. Follow the downturns in prices on the site.
Caviar is perceived as a delicacy it is consumed more frequently only on great occasions such as birthday or anniversary parties, weddings, holidays like Christmas and New Year.
There are several ordinary ways of serving caviar, for example spreading it over a slice of fresh bread to make some sandwiches so delicious that you will lick your fingers! But if you use a bit of imagination, you can ornament practically every dish on the table thus making it more festive. Do not hesitate to treat your family and some close friends like royalty. Give them a present in the form of one of the world's finest caviar.
2 Lb
---