Kremlin Salmon Red Caviar
Products Category: Russian Caviar

---
Kremlin Salmon Red Caviar is the fresh first-class roe of salmon, slightly salted. For a long period of time it remains the choice of real amateurs of premium quality marine products. It is available in our online supermarket in cans of 300 grams each.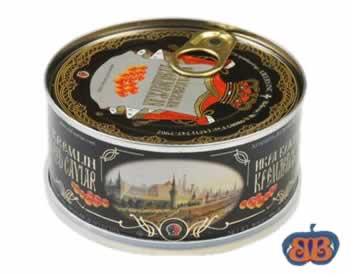 The product is kosher Certified by the Orthodox Union and is considered to be the best addition and ornament for the holiday dinner. Taking account of its relatively high price red caviar is most frequently bought for celebrating great events such as weddings, anniversaries, birthday parties, and winter holidays when you wish to treat your guests as royalty.
Since times immemorial red caviar was appreciated by indigenous people of the Far East as an ordinary foodstuff because there was plenty of it. They even fed their dogs with it. After the Far East was joined to Russia red caviar started being valued as a delicacy and was supposed to be the prerogative of the rich and noble people only. Despite its relatively high price the marine product appears on the tables of ordinary people at least once a year at the time of winter holidays. Red caviar is capable of ornamenting the dishes on the table as well as becoming a separate course itself. But more often it is served as an appetizer or cold snack.
10.6 oz
---